About the Activate project
"Activate is a two year project working with up to 20 students across years 7 and 8 at Coleridge Community College. The project is a collaboration with Cambridge Junction, Menagerie Theatre, The University of Cambridge Museums, Kettle's Yard, the Museum of Cambridge and NIE Theatre. Professional artists, actors, curators and directors are engaged to provide consistent, high quality progression based arts and cultural activity every Wednesday after-school for two hours.
The sessions are extra-curricular and voluntary with the young people specially invited to take part in partnership with their school. The school identifies young people on free school meals (FSM) most likely to benefit from the intervention.
The programme has been designed to develop self-awareness, resilience and an understanding of young people's potential to change. There has been a focus on progression, aiming for regular and on-going dialogue, reflection and evaluation between the young people themselves, their school and the arts and cultural providers.
The first cohort of young people created and produced a show The Museum of Us that was performed and exhibited at the school, Cambridge Junction and the Museum of Cambridge in Summer 2017. The second cohort includes new members and some young people who are engaging for a second year and will be taking on a leadership role and aiming for a Silver Arts Award. The group is working towards a final show in venues around Cambridge this summer." Michael Judge, NIE Theatre
"Participants are able to explore a range of art forms, skills and familiarize themselves with a range of cultural venues as well as extending their exploration and knowledge of Cambridge. As the project progresses and we get to know the group and their individual strengths and interests we can sign post them to other projects outside of the project.
This signposting is not just restricted to Activate participants but also to workshop leaders. In getting to know what we all offer and the connections we have we are able to help each other recruit for other workshops and build up a cultural web across the city.  Collaborating enables us to share the skills, good practice, contacts and knowledge that we have.
Occasionally it can feel tricky – there are a number of organisations involved and we may have different ways of working but ultimately this has been a very positive experience – opening up discussions about how best to run the programme and so developing our own methodology and giving the participants a well-balanced project." Hilary Cox Condron, Activate Facilitator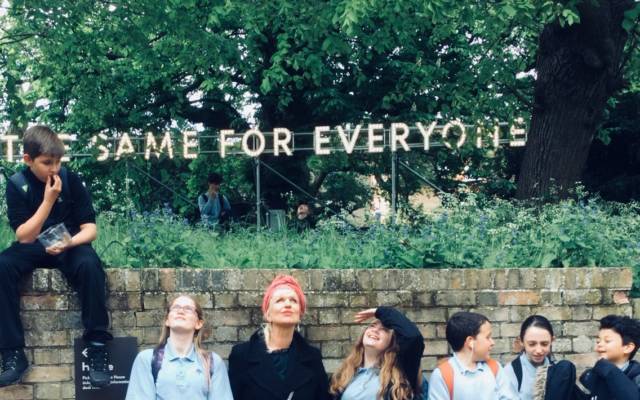 Working with My Cambridge
"As the project originator and funder, the collaborative nature of the work was a fundamental part of the approach – what we could see was that organisations were delivering short lived activities that weren't linked up – good in themselves, but difficult to demonstrate impact or make the case for the role of creative activities in challenging inequalities.
The aspiration of the project was and is to benefit the young people taking part, but there was also a strong aspiration to build connectivity and encourage the organisations working in this field to build longer term collaborations, so that the young people were able to be part of a creative activity over the longer term.
What emerged very early in the project was the additional creative benefit of the collaboration, with organisations choosing to bring together their different strengths to support the young people – this was not part of the original project brief, however has become one of its real strengths, and, although we still need to do more work to understand this, having positive effects not only on the young people but also on the long term working relationships we wanted to encourage." Jane Wilson, Culture and Community Manager, Cambridge City Council and Chair of My Cambridge
"The driving force of the My Cambridge partnership is that stakeholders are working together to provide an equality of access to arts and culture for all children and young people in the city no matter where they live or what their background.
This exciting project is helping to demonstrate how and why participation in arts and culture can transform a young person's experience of learning. It is just one area where My Cambridge is aiming to prove the difference arts and culture can make to young people's lives and future opportunities." Stephanie Peachey, Festival Bridge Senior Manager
Click here to find out more about My Cambridge
The future of Activate
"Having worked in collaboration we now have strong working relationships and know the cultural and creative offer and working style of each partner. We can work together to identify the strengths of the project and pare down the delivery time to offer a shorter programme that we believe can have the same impact, reducing the cost of the project.
There is a legacy for current participants as they can continue to be involved in projects across the city." Hilary Cox Condron
"My view is that it needed a funder willing to take a risk on the format in order for the approach to be developed – I hope that going forward individual organisations will be encouraged to develop fully collaborative activity, but I recognise that there is a very real financial challenge, with limited resources for fundraising, bidding etc, in developing a project where a significant proportion of the spend goes into other organisations. In the long termer the aim is to see organisations working together, with the project lead embedded in one of the partners, rather than being managed via the City Council, and as we go into the third cohort, the goal is to fine tune the approach that would enable that to happen." Jane Wilson