Chris Bullzini
Festival Launch
The Journey
This is a past event which has now ended.
Join us at the Festival launch for a once-in-a-lifetime, ambitious high-wire walk spanning the centre of Norwich. Breath-taking beauty and daring adventure walk in harmony for this magical performance, accompanied by a remarkable live soundscape.
Circus artist Chris Bullzini will go on a 230-metre-long journey from Jarrold, across Norwich Market, to the top of The Forum, celebrating Norwich, its history and its people.
PLAN YOUR JOURNEY…
We're expecting a large audience, please arrive in good time.
Road closures
Please note the following road closures from 7.30pm onwards: St Giles Street leading into Gaol Hill, closure past Upper Goat Lane. Bethel Street leading into St Peter Street.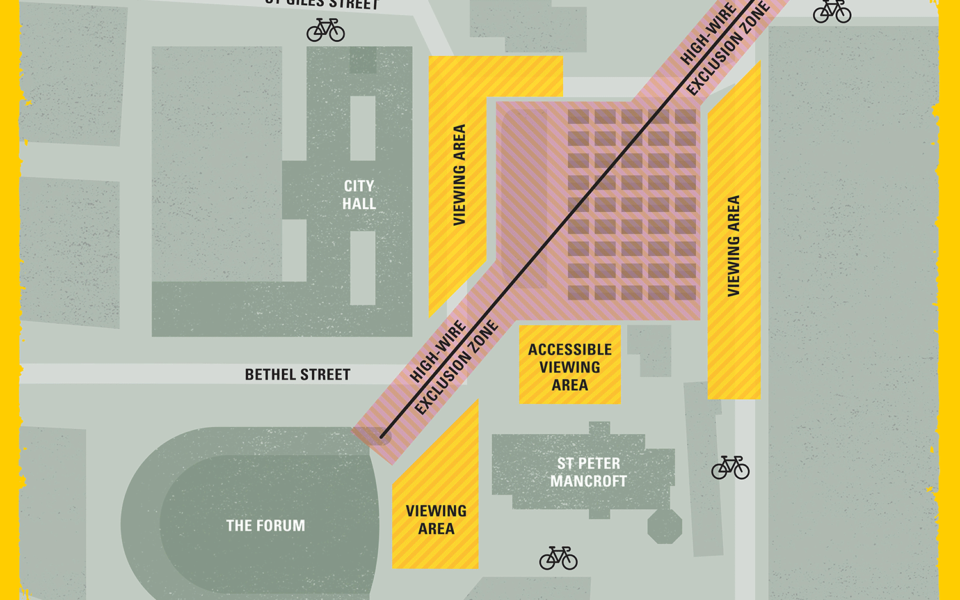 Exclusion zone
There will be an exclusion zone around the high-wire artist that will limit pedestrian access between 8pm – 10pm. Norwich Market will close at 8pm. Please plan from which area you would like to view the performance in advance.
Parking
The closest car parks are The Forum car park, Chapelfield multi-storey car park, Chantry Surface car park and St Giles multi-storey car park.
Access
The Accessible Viewing Area can only be reached via the front of St Peter Mancroft Church. An accessible toilet is available in the Accessible Viewing Area.
If you have any questions regarding access for this event, please email access@nnfestival.org.uk
BEHIND THE SCENES OF THE JOURNEY
One man. One high-wire. One ambitious Journey. A whole team of passionate creators.
In the run up to Friday's Festival Launch, we'll be releasing daily episodes of The Journey – a back-stage glimpse into the work of artists, musicians and volunteers creating this once-in-a-lifetime piece of Norwich history.
Gallery
Chris Bullzini, Highwire Walker
Tickets: This is a non-ticketed event
Produced by Norfolk & Norwich Festival
---
Masthead image: © Joe Clarke