British Museum - 100 Objects Collection
Teaching history with 100 objects is a partnership between museums across the UK and the British Museum, funded by the Department for Education. When I first looked at the website, I wasn't overly inspired but after clicking around a little, I realised how much information and flexibility the resources provided.
The homepage lays out images of all 100 objects in the curated collection – scrolling down, you can see that they span a number of time periods and curriculum topics. If you know what you're looking for it'll probably jump out at you; anyone for an Egyptian sarcophagus, a Greek vase, portrait of Richard III? There's also a handy menu to search by date, topic or Key stage if you'd prefer.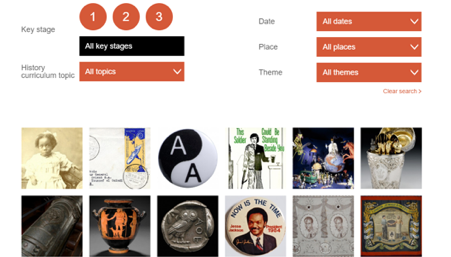 I clicked on the Jesse Jackson campaign badge dated 1984 as a friend had started teaching American Civil Rights within the new GCSE and I was interested to see what was on offer. The page gave me a brief physical and contextual overview of the item and why it was significant. From there I was able to navigate to:
About the object – A deeper history of Jesse Jackson, his links to Martin Luther King Jr and the Civil Rights Movement and how he's affected modern day politics.
A bigger picture – A brief history of American Civil Rights and images of other presidential campaign badges housed in British Museum collection.
Teaching ideas – Prompts to help examination and comparison of the sources and questions such as "How was 1984 different to 1963?" to discuss wider themes.
For the classroom – a range of resources such as a Black Panther badge, newspaper cartoons and speeches by Martin Luther King Jr, Jesse Jackson and Barack Obama.
Throughout the pages, there are links to more information on other sites – I ended up going down a wormhole after finding a timeline of American civil rights with hyperlinks to prominent figures and events. As an adult, I found it fascinating and really informative!
I was so impressed at how the information and sources were well thought out and connected to use something as simple as a badge to explore a whole movement – and this is just 1/100 items remember!
A teacher would easily be able to take as much, or as little, as they needed and apply it to their planning. The teaching ideas allow a lot of flexibility – the prompts could be adapted for any source or time period so even those not confident with teaching history could start here for a good foundation to build on.
The British museum also has about 4 million items in their online database so once you've been inspired by the 100 Objects, you can go and find more things to dissect and compare.
By Sava Radulovic