Joy at the Jobcentre
In the depths of lockdowns, Philip (DWP) and Elle (Ipswich Museums) wondered what would happen if we took over Ipswich Jobcentre Plus for a February half-term and crammed in as much joy as possible. The result was bigger, messier, and had more meerkats than we could have ever hoped.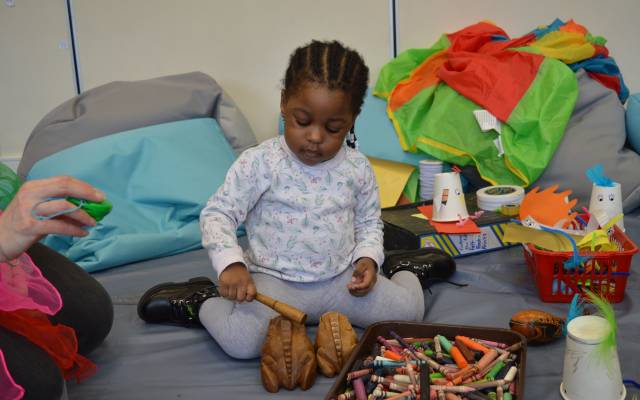 Two of the youngest visitors to Joy at the Jobcentre enjoying our a day dedicated to under 5s, with live music, instruments, and play. [Image shows two toddlers, sat on a rug covered in crayons, and craft supplies. The toddler on the right is offering the other toddler a green plastic toy.]
DanceEast, Rock Paper Scissors, Ipswich Museums, Suffolk Family Carers, New Wolsey Theatre, Suffolk Libraries, Britten Pears, EMBL's European Bioinformatics Institute, Art Eat, and Kimmy's Zoo joined in the fun. Together we created five days of arts, crafts, play, animals (alive and dead!), games, and den-building.
The Jobcentre's team have been overwhelmed with positive comments and personal good news stories from families who came along. Many families have taken time to pass on thanks and tell us about the beneficial impact the event has had on them and their children. We have over 200 visits to Joy at the Jobcentre, with many families coming every day and staying for several hours.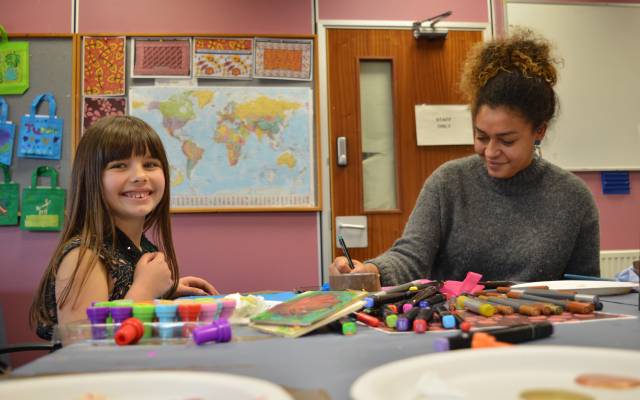 Lily Hammond, artist, helping a young artist create a canvas bag inspired by West African textiles in Ipswich Museums' collections. [Image shows a child with long brown hair grinning at the camera on the left, and a woman, on the right, helping her create a canvas bag. They are seated at a table covered in art supplies, including stamps, fabric pens and plates of paint.]
Parents have shared how much of a difference they have seen in their children throughout the half-term week. Children who struggled to engage or whose confidence around others was low have surprised their parents by freely playing with other children and adults. One family included an eight-year-old girl with autism, who was a selective mute and only communicates with her mum. After 2 days of attending Joy at the Jobcentre, she was so excited about what she had made and done, she spoke to her grandmother to tell her all about it. Through the power supporting a young person to express herself creatively her grandmother had heard her granddaughter speak for the first time in three years.
Other families have described the event as "a life saver" and "just what we needed". Jobcentre staff have been approached by families asking what other events are available for their children. The event has acted as a catalyst for families to be more curious about cultural and creative opportunities, with many discovering other free or low-cost activities taking place locally throughout the year.
We were delighted to see so many families joining us throughout the week, this was the first event some families had attended together since before the outbreak of coronavirus and, in some cases, it was the first activity some families had ever attended outside of a school environment.
Families have shared with us pictures and stories of craft projects completed at home inspired by activity packs given away during the week, and inspiration gathered from attending Joy the Jobcentre.
"We're proud to have been able to host such an event and demonstrate the jobcentres holistic and collaborative approach to supporting our community, we look forward to hosting many more creative families and community events in the future." – Philip Carter-Goodyear, Ipswich Jobcentre Plus.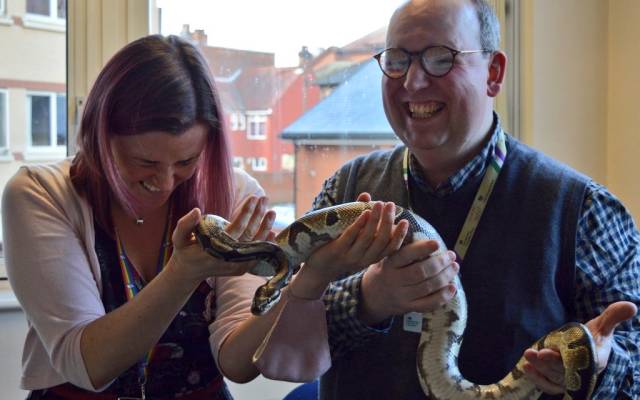 Philip and Elle making friends with a python (after quite a busy day!) [Image shows a woman with pink hair, black dress and pink cardigan on the left, and a man wearing glasses, with a blue jumper and shirt on the right, laughing whilst holding a green and brown snake in their hands]
This event was funded by Arts Council England, Norfolk and Norwich Festival Bridge, and Suffolk Family Focus. We really like our funders – they make wonderful events like this possible.