My step-daughter is doing her SATs this week and has been considering all the other year 6s across the country who are all benefitting from bacon sandwiches and hot chocolate before school. She wanted to know if all the tests would take place at the same time and how many bacon sandwiches were going to have to be made to fuel the nation's 11 year old brains in this one week, and why did it have to be bacon and not pancakes, hot chocolate instead of milkshakes? Good question indeed! I didn't have those stats to hand.
It turns out that she is one of 596,000 year 6 students who will go to secondary school this September and graduate in 2024. Workforce projections used by the Government in its industrial strategy suggest that creative occupations will grow by 5.3% by the time she will leave school – double the projected job growth across the UK economy and equating to an additional 119,495 creative jobs. Already 1 in every 8 businesses is creative, 1 in every 11 jobs.
In a March 2018 report, NESTA and the Creative Industries Federation say that our future economy will be built on creativity and technology. With artificial intelligence taking over routine tasks, there will be immense opportunities for people who combine creative, technical and social skills – skills that are resilient to future automation.
Breakthrough tech has opened up new markets for many creative entrepreneurs working within and beyond the creative industries. The advent of 3D printers means architects are now able to produce models in their front rooms. Virtual reality headsets allow dancers to perform live to truly global audiences.
In this particular week, I can't help but wonder where this creativity sits in the gloriously named SPAG English language test of yesterday or the reading that my step daughter sits today, and where will it be found as she moves into subject specialisms and the pressures of a new school?
In 2017, entries for GCSEs in creative subjects fell by 47,000. Entry to GCSE Design and Technology fell by 18,800, accounting for 40% of the overall drop. Current entry rates to creative subjects at Key Stage 4 have fallen to the lowest in a decade. All this makes me feel just a tad depressed and I start to worry a little on behalf of those hot chocolate guzzling alphabetically organised year 6s this week.
It seems to me that we have a duty to ensure this generation of children are able to benefit from this job growth, to help them develop the skills they need to be successful in a world where jobs are changing and being newly invented, where interpersonal, cognitive and systems skills like creativity, collaboration, critical thinking and problem solving will be key skills for long term employment.
I want to be confident that my step-daughter and her friends know all about the full range of creative careers – from the creative entrepreneur who has set up their own business to the designer working alongside engineers in other industries – and have the right information and guidance on how to pursue these lines of work from their teachers, parents and carers.
Festival Bridge is working with range of partners to develop Creating the Future – a framework of career education, information, advice and guidance which schools can use to help students answer questions like:
What are the creative industries?
What kind of creative jobs are there?
Why should I consider a job in the creative industries and what skills might I need?
How does this link to my own interests and the subjects I like?
How can I follow my creative aspirations? What support do I need and from who?
How do I make the case for a creative career pathway to my parents, teachers or friends?
Where can I find more information?
What might my next steps be?
Festival Bridge, Anglia Ruskin University, University College Peterborough, The Skills Service, The Ideas Foundation and NEACO are collectively delivering a framework which we hope provides young people with the right input to make good judgements and informed choices about the future world of work.
At year 8, students have the opportunity to take part in a Creative Brief Day. Meeting and working alongside professionals, students learn about the breadth of jobs available in the creative industries and begin to explore and draw out key skills, and understand how those skills relate to the world of work.
At year 9, students visit a creative business and explore what jobs exist locally and make connections about how their GCSE subject choices might translate into a working environment. They also look at the varied pathways towards a creative job, understanding local FE and HE pathways and other way they can support their aspirations.
Last year 41 schools and 6000 students from Cambridgeshire and Peterborough attended the Skills Service Careers Festival at the East of England Showground. Creating the Future ensures the creative industries are represented with professionals from architecture, design, IT, communications, the visual and performing arts, media and heritage all available to share stories, to advise and to answer questions including the biggies – how did you get to doing this job, how much do you earn?
We are building a pool of creative business mentors who can support individual students to pursue their creative interests both in and out of school, helping students to articulate and evidence the skills they have and building a strong CV or application for sixth form, college or university.
Finally we know we need to support others to bang the creative skills gong with us. In 2021 PISA ratings, traditionally used to measure and compare literacy and numeracy internationally will be measuring creativity in recognition of its importance as a 21st century skill.
It's not that schools don't value creativity – you only have to visit an Artsmark school to experience some of the amazing ways that teachers support students own ideas and own creativity.
The Creating the Future team feel that we need a more concerted, more consistent effort now to benefit those students who tight in the middle of these changing times. Through offering some professional development, we want to support the confident leaders who can show colleagues how to embed creativity into their school day within the deliverables that are already set, the curriculum that is already in place.
I worry that it is all too late, that the drop in creative subject take up and therefore the drop in arts teachers is irreversible, and those 2024 graduates are already behind in their readiness for the future that will be meeting them as they leave school. Then I think about the teachers that I have the joy to work with, I think about the creative professionals who I come across, and I think of the partners behind Creating the Future and the schools that are already committing to the delivery of our framework for the benefit of their students. And I think we'll be all right….
When my step daughter is graduating in 2024, I wonder what she'll be, what she'll do, what decisions she'll have made to get there. Projects like Creating the Future will make sure she has considered all her options and is ready for the world. What I am less convinced of is that the world will be ready for her!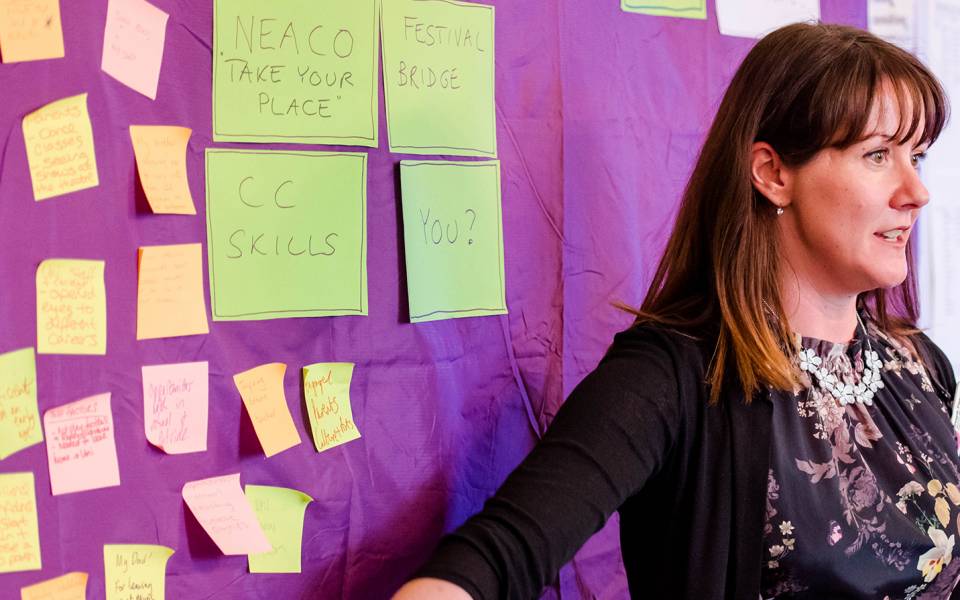 Stephanie Peachey is our Senior Manager for Cambridgeshire & Peterborough, facilitating partnerships, development and projects across the region. She is also overseeing the Creating the Future project. Steph is passionate about connecting talented people full of ideas with skilled people who can turn those ideas into reality. Contact her at stephanie@nnfestival.org.uk
Header image © Starfish Design Ltd