Festival Launch
Stationhouse Opera – Dominoes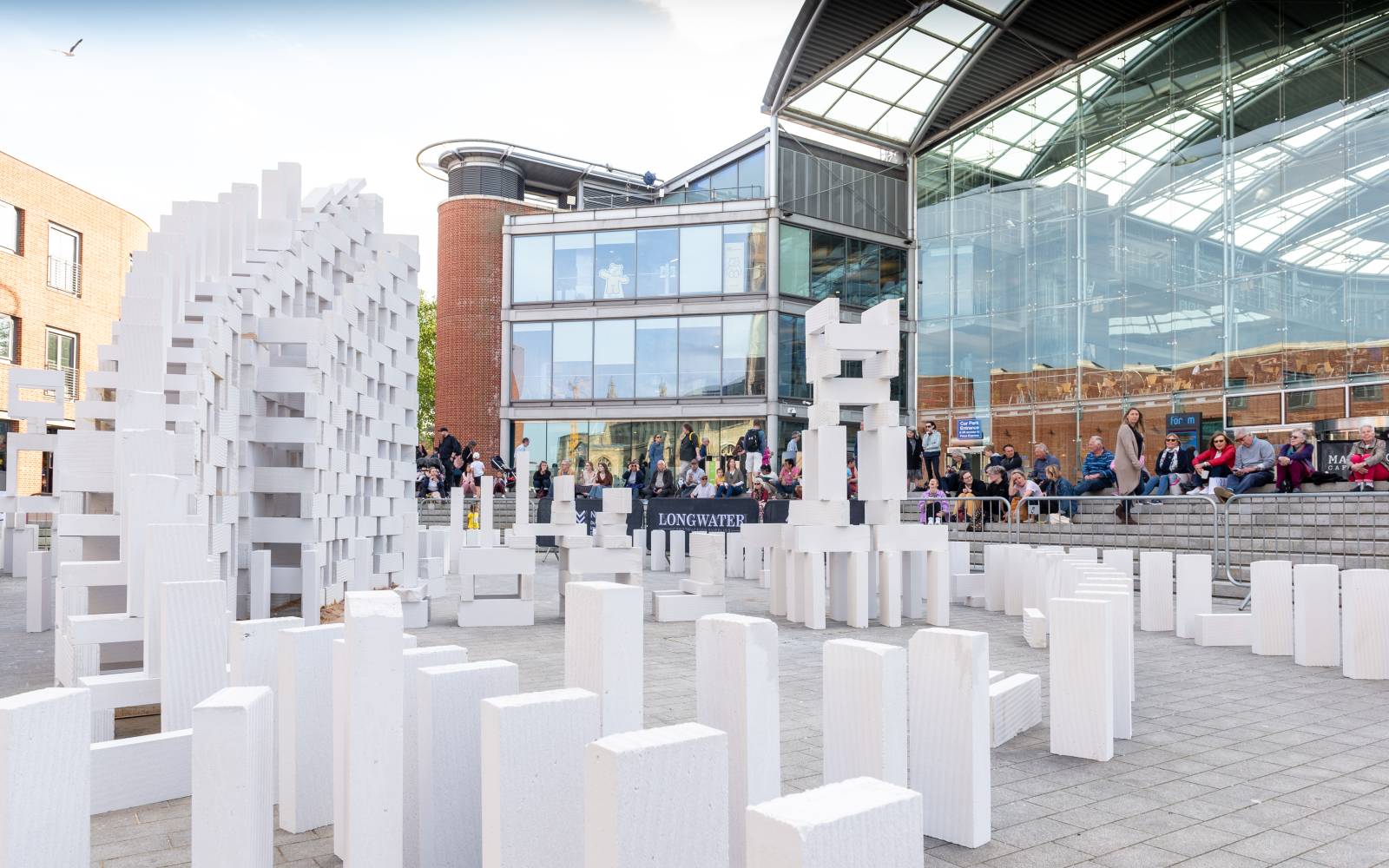 Over 10,000 people watched 7,500 giant dominoes topple through the streets of Norwich to kick off our 250th anniversary Festival!
Creating Festival Spirit across the whole city, Dominoes brought communities together through participation and engagement – hundreds of volunteers and audience members gathered to make this unique event
---
Sponsored by Norwich BID. Free Outdoor Programme Partner Tarmac. Supported by the Paul Bassham Charitable Trust.
Side by Side
Britten Sinfonia with Pete Letanka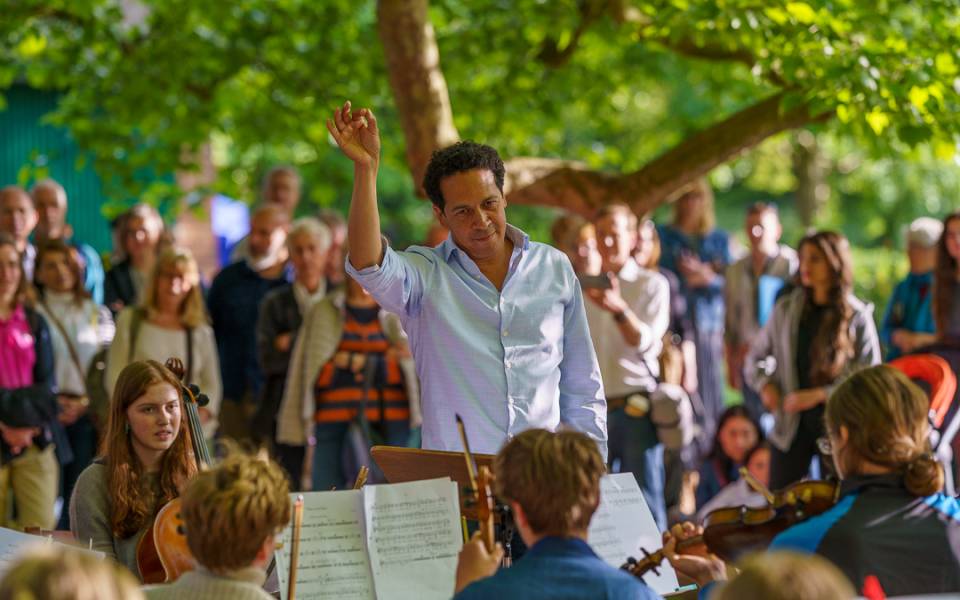 World Premiere
Throughout the day, local young musicians played across Norfolk alongside the world-class players of Britten Sinfonia. These performances culminated in a large, open-air concert in Festival Gardens, featuring the world premiere of Side by Side, a new work specially composed for the occasion by Pete Letanka.
---
Produced and supported by Orchestras Live and Norfolk & Norwich Festival. Supported by The Chivers Trust
Barbu
Cirque Alfonse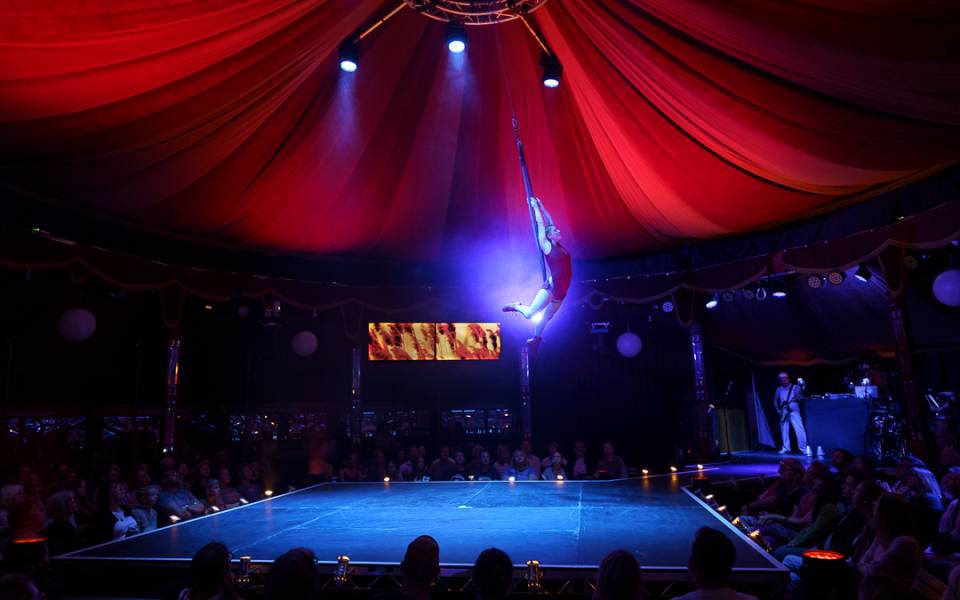 All beards, barrel chests and brazen burlesque, Barbu delved into the origins of Montreal's 19th century circus, bringing edge-of-your seat entertainment and a frenetic electro-folk band to Festival Gardens.
---
Supported by La Tohu (Montreal), The Canada Arts Council, le Conseil des arts et des letters du Québec. Sponsored by Dipple & Conway Opticians. With kind thanks to Director's Circle Supporters, Simon De-Lacy Adams & Robin Norman.
Signal on Sea
Strijbos & Van Rijswijk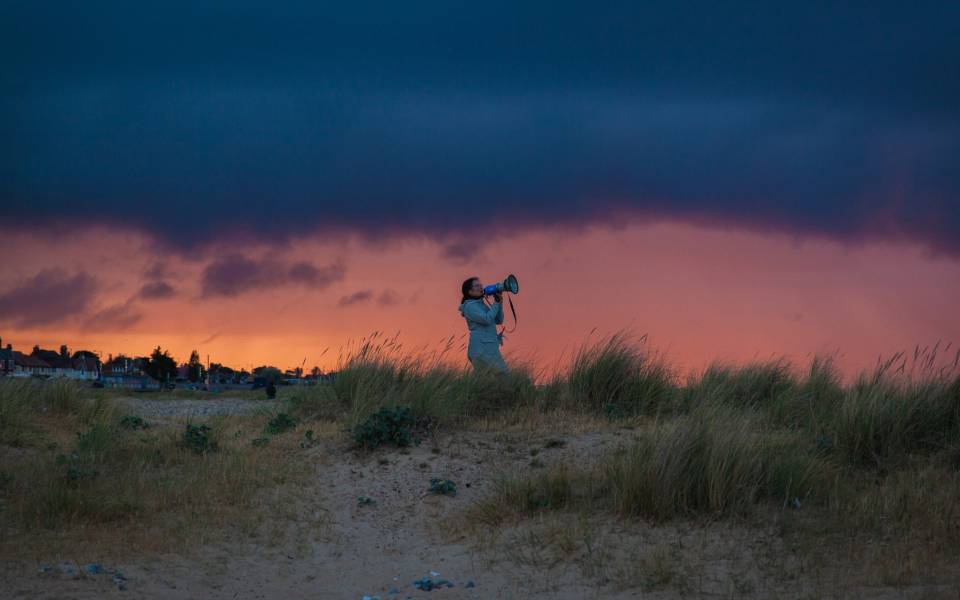 Dutch sound artists Strijbos & Van Rijswijk transformed Great Yarmouth's North Beach with a landscape of sound.
Two performances of Signal at Dusk accompanied the installation, in which live sopranos provided an hour long promenade across the beach, transforming the landscape as the sun set overhead.
---
Supported by IN SITU. Co-funded by the Creative Europe Programme of the European Union.
The Adnams Spiegeltent
Broadside Hacks
Calum MacColl
Cirque Alfonse
Claire Parsons Co.
dat Brass
Figs in Wigs
Grace Petrie
Jonny Woo
Le Gateau Chocolat
Levitation Orchestra
Peggy Seeger
Ragroof Tea Dance
Sean Shibe
WOOM
Visual Arts
Arts Council Collection
Babeworld
Cal Hudson
Claire Stevens
Collusion
Connor Coulston
Ellena Woolf
Festival Foundations Exhibition
Florence Dennis
haptic/tacit
Hattie Spalding
Hester Chillingworth
Hope Brooks
Ian Brownlie
Ingrid Banerjee Marvin
James Turrell
Jay Spooner
John Rogers
John Virtue
Joni Smith
Klanghaus Neutrinos
Lacey Law
Leiko Ikemura
Oozing Gloop
Richard Slee
Ryan Gander
Salome Wagaine
Free Outdoor
Air Giants
Avant Garde Dance
Daryl Beeton Productions
Fatt Projects
Joli Vyann
Matthew Harrison
Mimbre
Say
Strijbos & Van Rijswijk
Supple Productions
Stationhouse Opera
The Clay Connection
Theatre Témoin
Tony Adigun
Performance
Common Wealth
Frozen Light
Fuel
Gandini Juggling
Joshua Sofaer
Kamini Ramachandran
Karine Sauvé
Lone Twin
Lost Dog
Marion Leeper
Nick Power
The Guild of Wayfinders
Classical Music
Britten Sinfonia
Carolyn Sampson
Consone Quartet
Daniel Pioro
David Dunnett
Erland Cooper
Exaudi Vocal Ensemble
Helen Charlston
James McVinnie
Lawrence Power
Leo Popplewell
National Jazz Youth Orchestra
Norwich Cathedral Choir
Norwich Philharmonic Chorus
Pete Letanka
Rebecca Afonwy-Jones
Ross Ramgobin
Simon Crawford-Philips
Steven Osborne
The Heath Quartet
Thomas Gould
Toby Carr
William Vann
Contemporary Music
Anna Meredith
Afiya
Amaan Ali Bangash
Amjad Ali Khan
Arun Ghosh
Avenhue x Latekid
Ayaan Ali Bangash
Ben Auld
Brown Horse
Caroline Shaw
Darri T
Elina Duni
Fred Thomas
Hermeto Pascoal
Jessica Walker
Jossy Mitsu
Luke Styles
Malana
MAMA OH NO
Marina Florance
Molly Willis
Moor Mother
NYJX
Rob Luft
Sō Percussion
Soul Stew
Literature
Presented in association with National Centre for Writing
A.K Blakemore
Ayanna Lloyd Banwo
Galley Beggar Press
Guinevere Glasfurd
Kit de Waal
Ko Ko Thett
Lewis Buxton
Meiko Kawakami
Melissa Fu
Rob Mitchell
Richard Mainwaring
Rose Feather
Story Machine
Yan Ge
Family
JOFMAKESART
Lost & Found Films of Norfolk
Image credits:
Masthead Image: James Bass
Dominoes Images: James Bass, Mary Doggett, Malachy Luckie
Side by Side Image: Luke Witcomb
Barbu Images: Luke Witcomb
Signal on Sea Image: Malachy Luckie