Norfolk & Norwich Festival does Radio Local: Tuesday 19 May
Rediscover things you forgot you had in your cupboards with the Scavenger Hunt, prove you got the best dance moves in your with the Garage's guest challenge from You Can Choose Your Friends But Not Your Family, hear a rave about Norwich's bustling music scene by Taryn Everdeen, we are joined by Norfolk's very best mind-reader and Norfolk & Norwich Festival 2020 Artist Alex McAleer, we review hot fresh tasty vegan treats supplied by Tipsy Vegan with Andy and Jacob, let your ears be enchanted by another exciting artist commission about Diss Organ Festival from Lewis Wickwar, we are joined by Gillian Francis from The Scrubs Hub for a spot of The News, we break bread with the Marine, Mo and their boys for a segment of The Family, and we have Kings Lynn Local Legend & Historian Dr Paul Richards live on air!
Listen Back To The Highlights
Listen Back To The Full Episode
Dance Challenge with The Garage
The Garage are challenging you to dance!
Record your best dance moves to Finn Doherty's Feel So Good and send it to us via Twitter, Instagram, Facebook or email radiolocal@huntanddarton.com
Our friends at The Garage are experts at keeping boredom at bay and have recently moved their programme online – you can take part all from the comfort of your own home. From street dance to theatre, Zumba to music, there's something for all ages and abilities!
Find out more about The Garage
Finn Doherty is a young singer, songwriter, multi-instrumentalist and producer. Although his musical background was originally based on Traditional Irish Music, Finn began writing music at the age of 7 after having several guitar lessons, and recorded an mini-album on his lodger's laptop at the same age. Finn has since developed a dynamic and ambitious sound that combines Hip-Hop with landfill indie rock and acoustic soul, assembled with a DIY approach.
In May 2018, Finn debuted a new single, Feel so Good, followed by his mixtape The Choice That You Made in June. Off the back of this record, Finn and collaborator Ben James played live sessions for BBC Introducing and GAK, in addition to a long run of shows that included opening up for acts like Hobo Johnson and the Lovemakers.
Download Finn Doherty's Feel So Good
NNF20 Artist: Alex McAleer
After touring extensively in the UK, USA & Canada with one of the world's largest touring magic shows Champions of Magic, Norwich-based Alex McAleer was going to bring his Cabaret Award nominated solo show Mind Reader to the UK for the first time.
Catch Hunt & Darton's interview with Alex to get a taste of his mind-reading magic, sharp wit and flair for showmanship.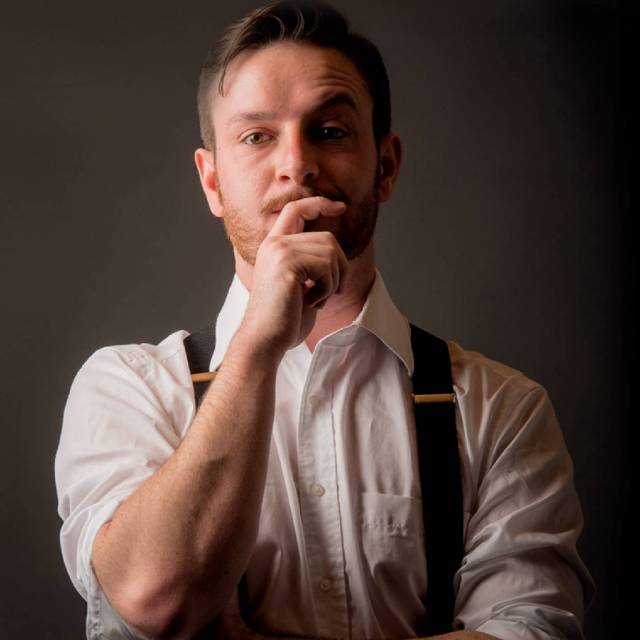 The Food Review
Andy (who works at local ethical & zero-waste shop The GreenGrocers) and Jacob (medicine graduate) review a tasty meal from The Tipsy Vegan.
The Tipsy Vegan is a hidden gem located in the historic Lanes, serving mouth-watering comfort food and social drinks. A city-centre hotspot for weekend brunch, dinner and cocktail & tapas get-togethers. Everything in our restaurant is tastefully vegan. Find out more about The Tipsy Vegan here.
The Family
We join Marine, Mo and their boys for some bi-lingual mealtime fun!
Local Legend: Dr Paul Richards
Dr Paul Richards was born and bred in King's Lynn and studied for both BA and PhD degrees in History at Birmingham University, followed by teacher training at Nottingham. Paul taught in further and higher education at the College of West Anglia. He was a Borough Councillor (King's Lynn and West Norfolk) and Mayor (1998-2000) before becoming an Honorary Alderman.
His History of King's Lynn was published in 1990, and he has written articles on local and regional history for various publications. Richard has since built up the series of books examining King's Lynn with entries such as 'King's Lynn Through Time' and 'King's Lynn History Tour'. Amongst several other interests, he is a trustee of True's Yard Fisherfolk Museum, a member of the King's Lynn Festival board and a town guide. Paul is particularly interested in the Hanseatic League past and present.
The News
We're getting the news from Gillian Francis, 54, a teacher from Norwich. Gillian is one of Norfolk Scrubs Volunteers' coordinators who set up the local branch after joining the national group For The Love Of Scrubs. She set up the group after asking two of her friends who are A&E doctors what she could do to help and wanted to do something that could help locally.  
Gillian and fellow coordinators Claire Wyatt, Julia Wheeler, Emma Bradley and Diana Cripps have worked tirelessly the past few weeks to establish a group that now consists of 1563 members, 1000+ sewers, 10,000m of fabric and over £41,000 raised. 
Norfolk Scrubs Volunteers
A group of volunteers making scrubs for NHS front-line and other care staff in Norfolk.
Inspired by the story & fantastic work being done by 'For the Love of Scrubs', we launched Norfolk Scrubs Volunteers back in March 2020 and sent the word out that we needed help to create much needed protective clothing for hospital, GP surgeries and care homes across our county.  To date we have amassed an army of volunteer makers, sewers, crafters, pattern cutters, printers, delivery teams, fabric suppliers and donors, to produce scrubs, hats and laundry bags for front line NHS staff and care home workers across our region.
Every day we are humbled by your kindness, energy and determination and have made friendships that will last long after this subsides. We still have lots to do, and with orders arriving daily, we can't wait to have you join our family. Do click the links below to find out how you can get involved or donate.
Find out more about Norfolk Scrubs Hub
Top of the Piper
Lewis Wickwar is a filmmaker and freelance arts worker. The aim of his pieces from Diss Organ Festival is to create a soundscape which evokes the feeling of walking around the festival, meeting some of the characters and hearing some of the instruments which you'd typically hear if you attended, and to find out a bit more about the culture. He would like to thank Jonny Ling for letting him focus on his festival, James Dundon for donating a huge selection of audio material from his archive and Iain Lowery for helping to edit and then mix the pieces.
Over the years he has made films with people of all ages and abilities. He works as collaboratively and informally as possible, using equipment that is accessible and tactile. Acknowledging that the film industry is a competitive place, Lewis offers an opportunity for beginners to explore the medium in a freer, less pressured environment where there's room for trial and error. He encourages people to mix film, animation and special effects techniques to express themselves and enjoy seeing what weird and wonderful results they can come up with.
Raves not Rants: Live Music in Norwich
Taryn Everdeen, from Young Norfolk Arts, raves about the live music scene in Norwich.
I just can't express how much I adore this little bubble of wonderfulness; I love Norwich. Everywhere you look, it's just bursting with creativity—I mean, have you seen some of the outfits that us Norwich locals rock? This is a tiny indication of what's going on in our fine city.
I have to say, I think our live music scene is the real gem in the crown. Supported by incredible venues like Norwich Arts Centre, Epic Studios, and The Garage—to name but a few—how could it not be? Our events game is strong. Fact.
My favourite memories in Norwich are invariably of nights going to gigs, dragging along a few friends, or sometimes going alone, throwing myself into the crowd and dancing wildly to the beat. And if I had ended up going by myself, I'd leave having recognised a bunch of familiar faces, or having made half a dozen new friends. We get to see all kind of things on stage: from big bands who've travelled across the country, to acts creating from the UEA ziggurats, to everything in between and outside, Norwich makes space for all that.
Our city is alive with music: just walking around the city centre for half an hour will introduce you to a good range of our buskers. We've got classical guitar, opera, pop covers… because we don't need a licence to busk in Norwich, anyone can rock up, and I love this freedom.
For me, I feel most at home in one of Norwich's open mics, happening a few evening a week across the city. I only discovered them back in October last year, but they quickly became the part of my week I looked forward to most. I got out to as many of them as I could, quickly integrating myself into this warm, musical community. Week after week, I was seeing the same core of faces, with a periphery of people that wandered in and out. I had never felt so loved and supported, feeling safe enough in this environment to challenge my fear of performing live. These nights were crammed with people, and I'd always have someone to talk to, but I liked that there wasn't pressure to speak: you'd get a drink, sit down, and watch the others perform, chatting in between songs, but having an excuse to shut up and just be absorbed by the music when they started playing again.
I think this community is what I miss most. Playing our music together, spilling out pieces of us that are personal and deep. I miss the outpouring of love and support. I miss the dancing. I miss the shared experience of live music.