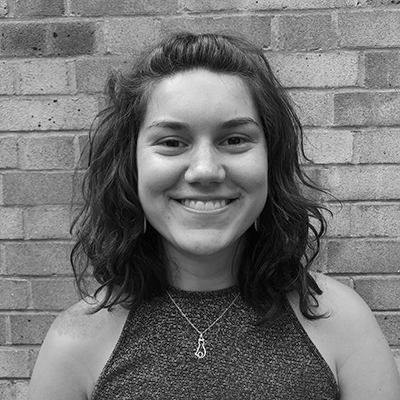 Five Shows That Made Me
The cultural things that we watch, experience, dance to or take part in, play a huge role in forming the people we are. Inspired by this idea, we asked Festival Bridge's Communications Assistant, Georgia Rees-Lang, to take us through some of her personal highlights from across the years. Read about the shows that made her, from parades and film screenings to being 'immersed in an aquatic world' in her own bathroom. 
---
Since graduating from university, I've tried my hand at a number of arts jobs and voluntary roles – none of which, surprisingly to some, involved becoming an English teacher or a journalist (which often seem to be the only two acceptable career paths for those foolish enough to undertake an English Literature degree). Looking back at these five projects I've chosen, one aspect that seems to connect them all is community and accessibility. I love to see art and artistic spaces feel like they are 'for' everyone, and I'm lucky that this is a theme continued in my current role at Festival Bridge, working across East Anglia to connect children and young people from all background with arts & culture opportunities.
Brighton Festival Children's Parade, 2005
As a small child, taking part in the annual children's parade which kicks off Brighton Festival was probably my first experience of a community arts event. I went to a tiny primary school, so the chance to feel part of such a big, city wide event felt incredibly exciting. I can't remember what the theme was that year – they're always very loose – but I think it might have been something along the lines of 'life is like a box of chocolates', as our school were dressed as Quality Street. While my memories are hazy, at that age emotions run high, and I do distinctly remember the intense disappointment at finding out I was going to be a green triangle (the undeniable chocolate short straw).
Despite any initial resentment towards the toffee fingers and honeycomb crunches that surrounded me, my memories of the day itself are nothing but positive. There's something lovely about the setup of a parade – with no 'headline' act, every participant feels equally important, and seeing the usually traffic-filled streets brought to a standstill by a cacophony of colourful school children was a beautiful thing. The novelty of seeing an everyday space transformed into somewhere full of joy and excitement is one that I don't think will ever wear off, and my love of outdoor arts has only continued to grow since that day.
MOOP: The Museum Of Ordinary People
MOOP is a project that works across the south east of England, celebrating ordinary people's lives by creating pop-up museums in spaces such as libraries and galleries, with exhibits of 'everyday' objects that tell a story from their owner's past. I absolutely love the concept of this project – as someone who's intrinsically nosey, I relish any chance to be given such a personal glimpse into other people's lives. The project also really highlights the power of story. On their own, the objects on display – a set of keys, a doll, a coat – are pretty unremarkable, but accompanied by the stories that surround them, they take on a much deeper, even magical sense of meaning. It's really powerful.
'The project did a lot to remind me about why museums are important, and what they should really be about, which is people: telling all our stories, not just some grand notion of 'British History' that feels stuffy and inaccessible.'
I was lucky enough to be involved along with my mum in a live version of the exhibition, called MOOP: Stories (actually not too dissimilar to the amazing True Stories Live here in Norwich), in which we re-imagined a collection of family letters dating back to WW2. I don't come from a big or close-knit family, so there was something really lovely about honouring our past in that way. Plus, my mum attempted a slightly dodgy Welsh accent, which added an unexpected twist.
The project did a lot to remind me about why museums are important, and what they should really be about, which is people: telling all our stories, not just some grand notion of 'British History' that feels stuffy and inaccessible. In my work now as part of the Common Ground team, I love that this is an ethos we're bringing to our work as a heritage project.
Cinema City's Dementia-Friendly film screening, "White Christmas"
I worked at Cinema City in Norwich for almost 3 years, and absolutely loved my time there (and the free cinema tickets). There were many events I could have chosen, including a rather glitzy screening attended by the one and only Mark Kermode, but the project I'm most proud of is from my time as the Dementia-Friendly Screenings Coordinator, a role I took on in 2019. Having had some pretty sad experiences of visiting my grandma in a care home, I hold a special soft spot for projects that create inclusive spaces for the elderly and those with dementia. Our screening of White Christmas stands out especially. There was such a lovely atmosphere that day, and it was really clear how appreciated it was by attendees and their families to have a public space that was truly welcoming and accommodating of their needs. There's been so much research about how the arts can be beneficial for those with dementia in unlocking long-term memory, and I can definitely vouch for that being true. Seeing faces light up with recognition when the lights dimmed and Bing Crosby pranced onto the screen made all the organisation and logistics worthwhile.
Norfolk & Norwich Festival 2020 – the festival that never was!
Not exactly a project and more of a non-project, but it felt wrong not to include NNF20, as this was my one and only experience of working for the festival! I joined the team as volunteers coordinator, and this was my first full-time job in the arts, so it was an exciting time. I think volunteer departments sometimes get slightly overlooked, but they truly are the backbone of most events and arts organisations, and NNF is no different. It was so incredible to meet all of the dedicated volunteers that have been a part of the festival for so many years, and to see what a huge part of peoples lives it is across Norfolk.  On the plus side, we had around 7 weeks of normality, before the pandemic hit the proverbial fan. On the down side … 7 weeks isn't really very long.
There were certainly some pretty surreal and testing moments – such as trying to hold a busy training session at the exact same time that Boris was making his infamous 'now is the time to stay at home' speech. But actually, through the process of having to cancel the festival, I think myself and my fellow coordinator Ellie learnt a lot about flexibility, resilience, and the importance of maintaining a sense of humour throughout. And to never schedule an event for first thing on a Monday because it doesn't give you any time to cancel!
'Swimming Home' by Silvia Mercuriali, reviewed by rrramble
Last October myself and two friends co-founded an arts blog & review site called rrramble. The concept is about challenging the usual definitive nature of reviews. We wanted to combat the idea that one singular opinion of a critic can either condemn or immortalise a piece of art; there's often something that feels intrinsically conceited about reviewers (even the aforementioned Mark Kermode). With rrramble, every review is multi-perspective, so you get a cross section of a few (often differing) opinions on each piece, hopefully opening up more of a dialogue.
Because we started up during the pandemic, and also because we have writers based all over the country, most of the things we find to review are online, and I've loved the challenge of finding varied and interesting pieces to include. This production, 'Swimming Home', stands out because it was so left-field. Wearing a swimming costume, goggles and a pair of headphones, audience members are "immersed in an aquatic and sonic world in their own bathroom" through a series of soundscapes. Though it didn't get the most glowing reviews, it definitely broke the monotony of lockdown, and it felt like a great example of how inventive artists have become over the past year in finding new ways to continue to create shows that people can experience at home.
So there you have it! I've really enjoyed collating these pieces, and thinking about the ways in which art can and should be for everyone: from an eighty-year-old care home resident at a film screening, to a chubby eight-year-old in a green tin foil hat.
NNF19 – Stopgap Dance – Frippery – ©Mary Doggett