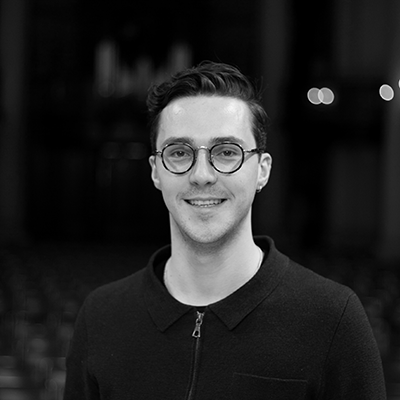 Meet James, our Music Programmer
I'm now six weeks or so into my new role at Norfolk & Norwich Festival. As you can imagine, it's been a funny time to start a new job. The challenge of making a good first impression with new colleagues was made all the more daunting by having to do it via Zoom, although at least I didn't have to worry about what shoes to wear. An insignificant quibble, of course; I know just how fortunate I am to be employed at all during such a ruinous time for the arts in the UK.
Up until recently I was working from my then home in London, and so for the first month or so it all felt pretty arms-length, disconnected, not very real. For any job this would be difficult, but for one that is so rooted in a particular location, it was made more so.
Now that I've successfully relocated to Norwich (I wish the trials of finding a home during a pandemic on nobody), I'm spending time to get a feel for the place and its people. I'm making my way around all the venues, and all the places that could be venues. What makes a festival like Norfolk & Norwich special is how it engages local culture, opens eyes to new surroundings, and refreshes neglected spots through this wonderful prism of art and performance. For every Cathedral, there is a car park; every theatre – an abandoned office block. Because for a festival like Norfolk & Norwich in the 2020s, its presence must be felt across the breadth, depth, and height of its locale.
My role at the Festival oversees the 'classical' and 'contemporary' programmes, together with a responsibility to cultivate and harness the rich music scene that exists in Norwich among its artists, citizens, and schools. Chief among my goals is to broaden the appeal of what might be termed the 'classical' programme. I say might, because those dividing lines that once indicated where classical music started and stopped have for a long time now been tricky to make out. Musicians and artists move more fluidly between genre and style than ever before, and with this comes a wonderful opportunity to hook in new audiences.
How do we achieve this? A major priority should be commissioning more new music from a much wider and diverse range of artists. We must show audiences, and particularly young audiences, that this is a living, breathing art form, and that anyone can be a part of it. There's not a composer alive I know of who isn't influenced by a multiplicity of musical and artistic inspirations, who doesn't want to engage new listeners. Likewise, the artistic range of today's performers is wider than ever: string quartets that play Henry Purcell and Fanny Mendelssohn will happily turn their hands to Steve Reich and Anna Meredith, with thumping electronic accompaniment; singers are just as at home performing John Dowland as they are Nick Drake.
Another priority is to really question formats and venues. Our traditional concert venues can feel more akin to a sacred space than a stage for creativity and experimentation, and the audiences we need to reach often feel intimidated. I'm not suggesting we tear them down, but we must put music into galleries, clubs, pubs, parks, warehouses, care homes, hospitals, and schools far more than we are currently. Some of my most memorable artistic experiences have taken place in warehouses and pubs, not just opera houses and concert halls.
But perhaps the most effective way to reach people is through education and learning. Alongside our own incredibly dedicated Creative Engagement and Festival Bridge teams, we're blessed here in Norfolk with a number of very active and ambitious programmes from the likes of Norfolk Music Hub and NORCA. Then there's the work of organisations like Norwich Philharmonic Orchestra and Chorus and Norfolk County Youth Orchestra, offering that unique experience of massed music-making to so many participants and audience members year-round. (I'm happy to admit that I've been somewhat overwhelmed by the sheer volume of music-making that goes on in Norfolk.) This provides an incredible infrastructure which we can complement with our visiting artists to offer people across the county unique experiences to learn and perform alongside leading artists, creating those unique interactions that only Festival season can bring.
My previous job was putting on music, opera and theatre in a former cricket bat factory turned night club in Peckham. It was a gritty setting, by no means designed for performance, with lots of pillars to contend with and the chunter of passing trains every few minutes. But for all its inadequacies and idiosyncrasies, it was a place full of character, and the idea that 24 hours earlier a party-goer had been dancing, singing, or even vomiting on what was now an opera stage only added to this.
Young, diverse audiences came through as strongly as those you might expect to see at concerts or the opera. They devoured new song cycles, chamber operas, and electronic compositions, as well as Bach, Britten, and Handel. Working with artists, we experimented with formats and genres, putting together an ambient set that launched a song recital followed by a DJ set; an opera that ran into a funk and soul night; a new theatre piece that melded rap, jazz, and spoken word, set amidst an installation. These choices, along with a more relaxed set-up – scattered seating, no set stage, bar open throughout shows – led to extraordinary and spontaneous interactions between artists and audiences that I'll never forget.
Norfolk & Norwich Festival has an incredible heritage as a leading presenter and commissioner of classical music, performed by brilliant artists from across the UK and the wider world, in the many characterful, historic, beautiful venues that the county has to offer. This will not change. Rather, it will be celebrated as we synthesise these timeless, much-loved qualities with an ambition to constantly reach new audiences in new places, and surprise people with the results.
As a result of lockdown and isolation, many who work in the arts are now realising the need for cultural organisations to engage at a micro level with local audiences and surroundings. It's a shame it's taken so long; this sort of work has been taking place for decades, centuries in some cases. Let's not forget that Norfolk & Norwich Festival came into being as a civically-minded celebration of the arts, aimed at supporting Norfolk & Norwich Hospital. Whilst the profile and artistic breadth of the festival has evolved over the last 248 years, the aim to enrich, entertain, and engage the people of Norfolk and Norwich has remained constant.
Conversations with those I've met so far tell me that Festival audiences are up for a challenge. It's inspiring to hear this. What we need now is to reach those who aren't Norfolk & Norwich Festival audiences, and challenge them too.
PS: I want to hear from you. Do you have an idea for a project or collaboration? Is there a space you think we should be putting art in? Get in touch. (james.hardie@nnfestival.org.uk)
---
Masthead Image: Aurora Orchestra, Chapelfield Gardens, Festival 2016 © Dibs McCallum
Copy Image: Songwriting Workshop, Dersingham, Festival 2018 © Paul Harrison