How Like An Angel
Circa & I Fagiolini
UK Premiere
Fusing Circa's exhilarating brand of contemporary circus with the exquisite sound of I Fagiolini's singing, How Like An Angel celebrated the beauty and grandeur of four stunning English cathedrals.
**** '…their extraordinary lifts and the tableaux they create seem to defy the laws of both biology and physics. The magic comes when music and bodies align.' The Times 
'Voices soar to the music of Thomas Tallis and Orlando Gibbons as bodies fall, tumbling down rippling silks and hurtling down ropes at reckless speeds.' The Guardian 
**** 'the acrobats, in their constant pushing against gravity, were aspiring towards the angelic bodiless nature of the voices.' The Telegraph 
---
Produced by Norfolk & Norwich Festival in association with Circa and I Fagiolini.
Commissioned by London 2012 Festival.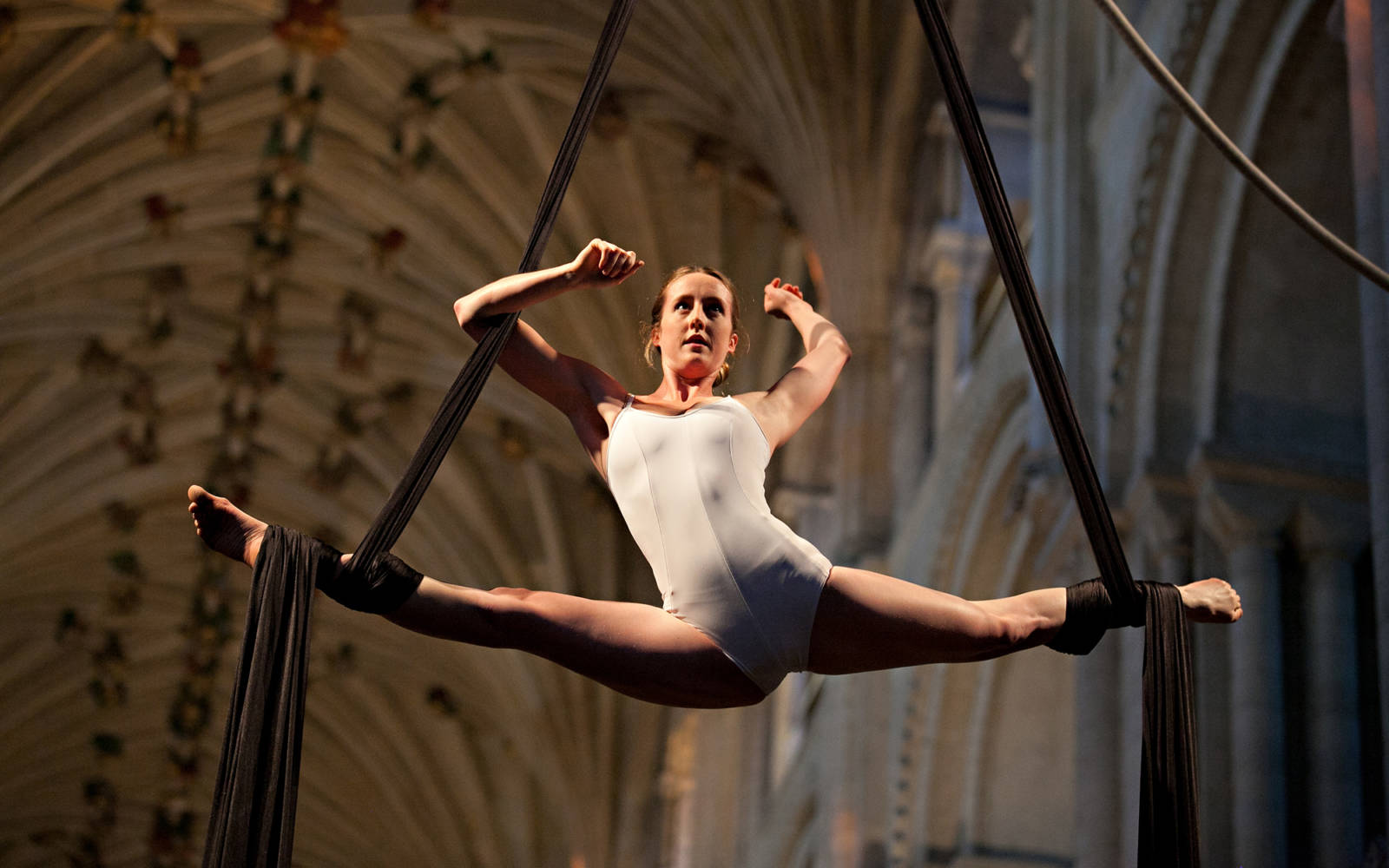 Walking
Robert Wilson
UK Premiere
Set at Holkham Estate, Walking was a major collaboration between Norwich & Norwich Festival and internationally acclaimed American director/artist Robert Wilson in collaboration with Theun Mosk and Boukje Schweigman. Part walk, part theatrical experience and punctuated by gigantic architectural installations.
**** 'it's theatre, but not as we know it' The Telegraph
**** 'Here, we are all performers on a stage, directed by an artistic vision we don't quite comprehend, forced into ways of seeing – and being – we would never contemplate in the rush of everyday life.' The Guardian
---
Commissioned Norfolk & Norwich Festival and London 2012 Festival. Produced by Norfolk & Norwich Festival.
100% Norfolk
Rimini Protokoll
UK premiere
A show about the population of Norfolk… starring the population of Norfolk. Featuring 100 ordinary Norfolk folk, 100% Norfolk created a living, breathing spectacle, a portrait of who we are and the place we live.
Dinosaur Petting Zoo
Erth
Erth brought its unique Dinosaur Petting Zoo all the way from Australia, making trips to schools and venues around the county; giving residents of Norfolk the chance to get up close and personal with a dinosaur.
'It's a rare and pleasurable work that manages technical brilliance, cultural insight and enchantment all in one go' Sydney Morning Herald
All 2012 companies & artists
Classical Music
Aurora Orchestra
Barnaby Archer
Berlin Symphony Orchestra
Bow Down
Britten Sinfonia
Christina Ortiz
Ensemble Matisse
Escher Quartet
Festival Chorus & London Philharmonic Orchestra
Inner City Brass Quintet
Ji Liu
La Mer Trio
Rupert Charlesworth & Edwige Herchenroder
Spira Mirabilis
The Sixteen
Trilogy Clarinet Quartet
Family
Bo Nanafana Social Club
Dan Zanes & Friends
Erth Visual & Physical Inc
Kid Carpet & Theatre Bristol
TPO Company
Free Outdoor
Bureau of Silly Ideas
Close-Act
Compagnie Daad
Company Chameleon
Company FF
Dans La Poche
De Stijle Want
Delinus
Erth Visual and Physical Inc
Flying Buttresses
Live Art Collective East & Leslie Hill & Chris Dobrowski
Mimbre
Shay Horay
Stuff 'n Things
The Insect Circus
The Strangelings
Performance
Beta
Circa/I Fagiolini
Compagnie XY
Fabulous Beast & Liam Ó Maonlaí
Hannah Jane Walker & Chris Thorpe
Little Bulb Theatre
National Theatre of Scotland
Opera North Projects
Quarantine & Company Fierce
Requardt & Rosenberg
Rimini Protokoll
Robert Wilson
Schweigman&
The Paper Cinema
Tim Crouch
Time Circus
Zachary Oberzan
Visual Arts
Battle of the Eyes
Bill Viola
Chritian Eisenberger
Gregor Hylla & Velena Popova
Contemporary Music
Afrocubism
Balaclava Kid &Dad
Ballake Sissoko & Vincent Segal
Bombino
Dan Tombs
Duane Eddy
Festival Jazz Boat
Gangpol Und Mit
Imagined Village
Jerry Dammers' Spatial aka Orchestra
Nathan Fake & Luke Abbott
Nell Bryden
Nigel Kennedy Quintet
R.O.K
Robert Glasper Experiment
The Voice Project
TV Buddhas
Vusi Mahlasela
Yacht
Zara McFarlane
Zun Zun Equi
Festival Feast
Bureau of Silly Ideas
Company FF
Dinosaur Petting Zoo
Hound of the Buskervilles
Ragrood Dance Theatre Company
Rimski
Stuff 'n Things
Wet Picnic
Literature
Presented in association with Writers' Centre Norwich
Alain de Botton
Alan Moore
Carol Ann Duffy
Iain Sinclair
Mimi Khalvati
Nick Laird
Partaw Naderi
Reza Mohammadi
Ron Wyman
Sarah Maguire
Shakila Azizzada
Tribunal 12
Zachary Oberzan
The Adnams Spiegeltent
Bo Nanafana Social Club
Bob Log III
Bourgeois & Maurice
Bryony Kimmings
Flick Ferdinando
Ida Barr
II Pixel Rosso
Juju
Kid Carpet & The Noisy Animals
Lau
Lili Scala
Peasant
Ragroof Theatre
Ralph Carney
Sam Amidon
Stuff 'n Things
The Bevvy Sisters
The Boy With Tape on His Face
The Dr Teeth Big Band
The Handsome Family
The Insect Circus Museum
The Loveboat Big Band
The Magic Number
The Sweetbeats
The Vagaband
The Wau Wau Sisters
Tina C.
Trembling Bells
Valentina & Voces Del Sur