The People's Tower
Olivier Grossetête
A magnificent cardboard version of St Peter Mancroft Church, designed by French artist Olivier Grossetête and built by audiences Outside The Forum. After construction the cardboard monument was knocked down.
'I helped make The People's Tower on Saturday… I love the way the Festival always finds those surprise moments – I'm still buzzing about it days later' Audience Member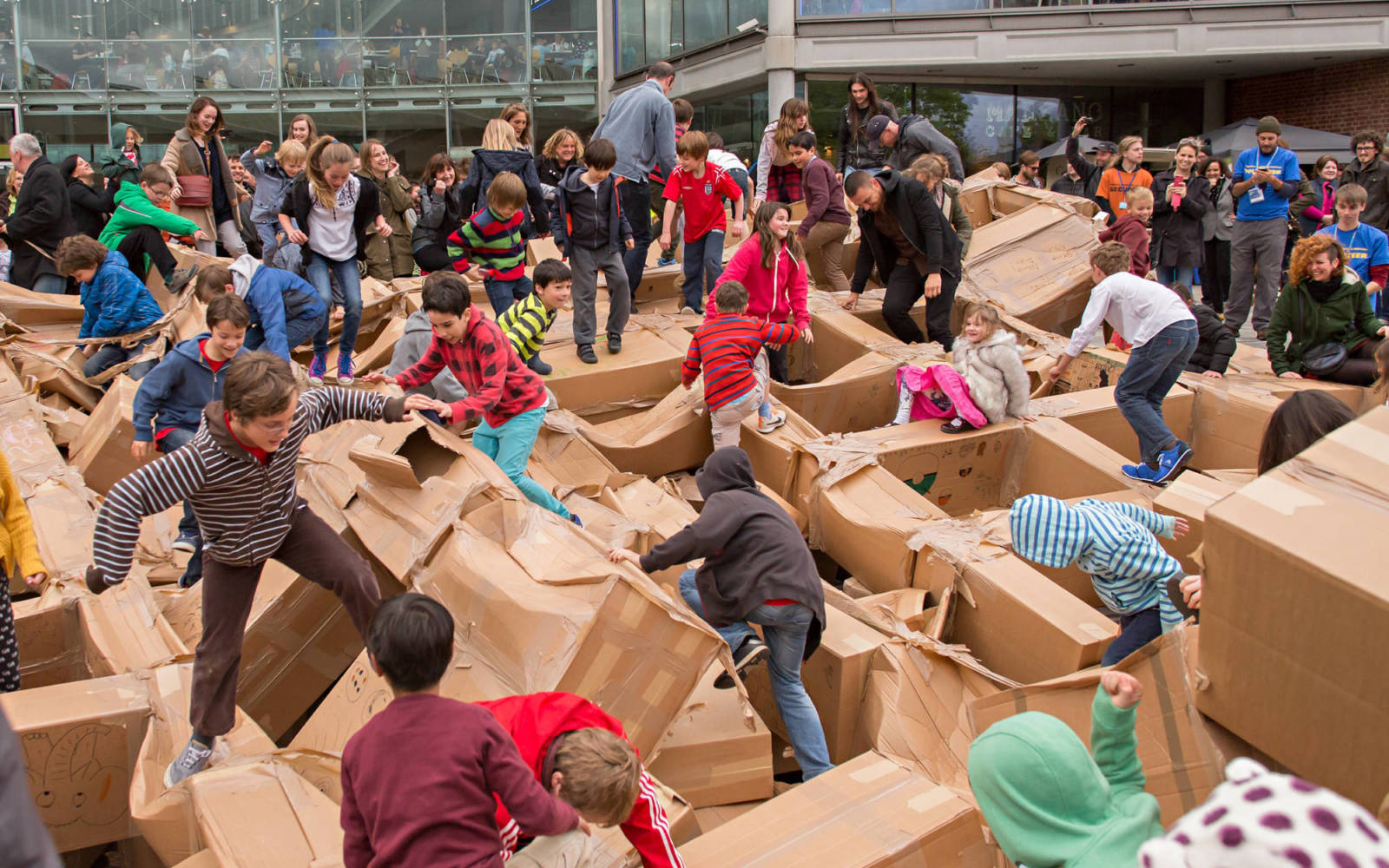 Souveneir
The Voice Project
The 150 strong The Voice Project Choir and Bold as Brass Ensemble led audiences on a tour of the grounds and Marble Hall at Holkham, accompanied by percussion from Derek Scurll and portable piano from Adrian Lever.
'Quite simply, this is possibly the most beautiful and moving experience of its kind that I have seen and heard.' The Norwich Blog
Pioneer
curious directive
World Premiere
Pioneer was a life-affirming tale about mankind's desire to reach towards another planet, telling the story of the first mission to mars.
★★★★ 'Restlessly intelligent theatre' Telegraph
---
A curious directive, Norfolk & Norwich Festival and Watford Palace Theatre co-production.
All 2014 companies & artists
Classical Music
Bernadl Quartet
Bournemouth Symphony Orchestra
Deco Ensemble
Doric String Quartet
Evelyne Berezovsky
Louis Lortie
Mahogany opera Group
Narek Hakhnazaryan & Oxana Shevchenko
Norwich Cathedral Choir
Notus Winds
Patricia Rozario & Josephine Knight
Philharmonia Orchestra
The Jorgensen Trio
The Sixteen
The Voice Project
Family
Literature
Presented in association with Writers' Centre Norwich
Alexander Gordon Smith
Avaes Mohammad
Darren Shan
Diane Setterfield
Hermione Lee
Iain Ross
Karl Ove Knausgaard
Kate Mosse
L.Kennedy
Mary & Bryan Talbot
Molly Nalor
Raffaella Barker
Ray Davies
Ross Sutherland
Samantha Ellis
Siddhartha Bose
Performance
Breakin' Convention
Circa
curious directive
David Leddy
Dmitry Krymov Lab
John Hurt & John Granger
Michael Clark Company
Visual Arts
Kathy Hinde
Stephen Brandes
Tim Davies
Contemporary Music
Andy Sheppard
Dave Okumu & The Invisible with Shingai Shoniwa
Hugh Masekela
Javier Limón & Magos Herrera
Jow Boyd & Olivia Chaney
Lavinia Meijer
Madeleine Peyroux
Mike Westbrook
Philip Sheppard
Phronesis
Rue Royale
S. Carey from Bon Iver
Serafina Steer
Snarky Puppy
Toumani Diabaté
Free Outdoor
Acrojou
Lords of Strut
Metro-Boulot-Dodo
Olivier Grossetete
Ramshacklicious
Wet Picnic
Live Art Club
30 Bird
Bo Nanafana
Christopher Brett bailey & Christopher Dobrowolski
Hunt & Darton Café
John Boursnell
Kindle Theatre
Other/other/other
Rachel Mars
Stacy Makishi
Sylvia Rimat
The Neutrinos
The Adnams Spiegeltent
Bo Nanafana
Bourgeois & Maurice
Camille O'Sullivan
Die Roten Punkte
Family Atlantica
Molotov Jukebox
Orkestra Del Sol
Red Bastard
Riot Jazz Brass Band
The Ragroof Players
Wings of Desire