What Will Have Been
Circa
World Premiere
One of the world's greatest contemporary circus companies, Circa, brought their ground-breaking new show to The Adnams Spiegeltent.
***** 'masterly re-defining of the boundaries between circus, music and drama' The Reviews Hub
---
Created by Yaron Lifschitz and the Circa Ensemble. A Norfolk & Norwich Festival and La Teatreria (Mexico) commission.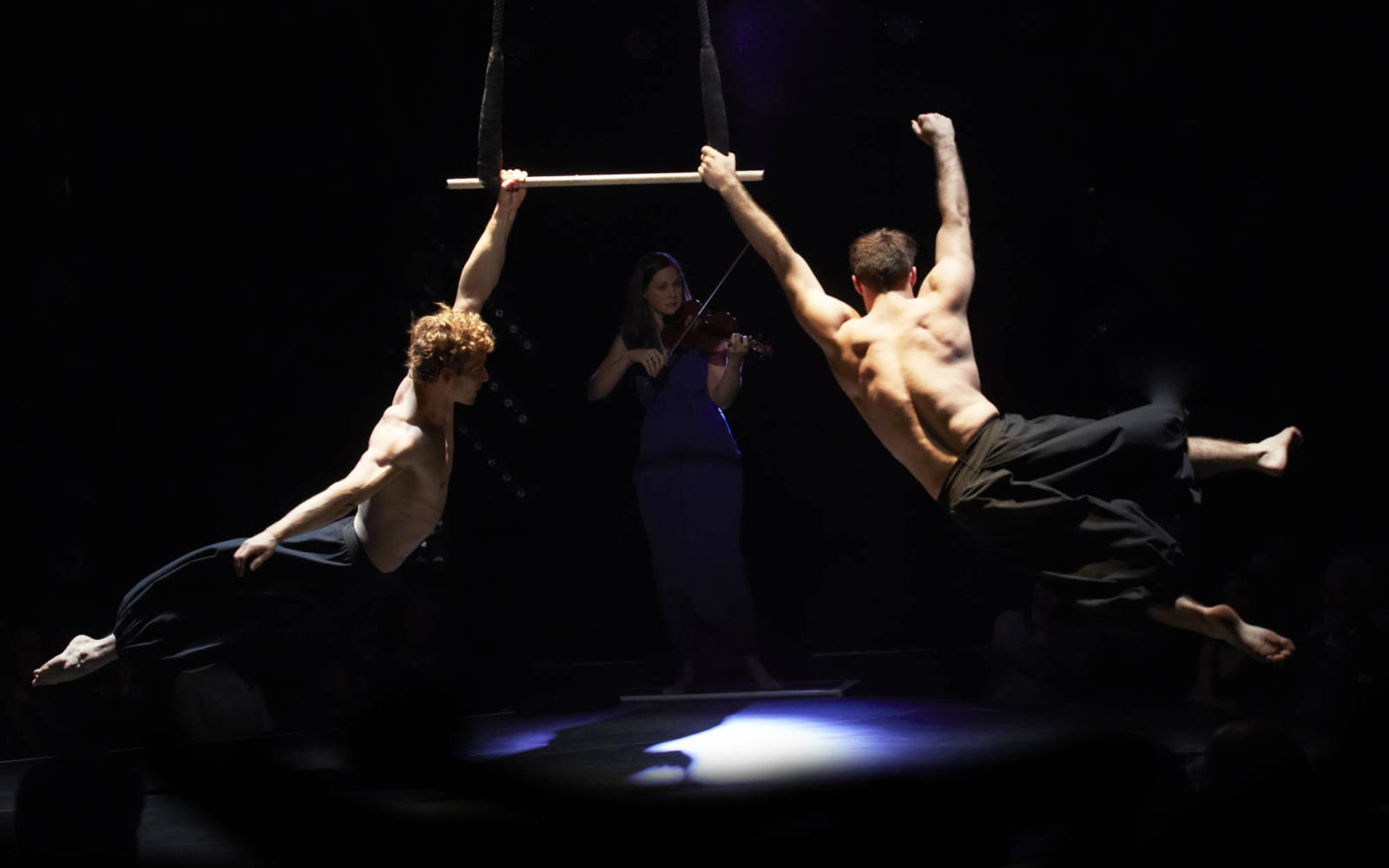 Wolf's Child
WildWorks
World Premiere
A grown-up fairytale of love and betrayal, set against the magnificent backdrop of Felbrigg Hall, Wolf's Child was a journey through the trees to a place of magical transformation; where crows talk and wolves sing.
***** 'The show is mischievous, moving and … utterly magical' The Times
---
Norfolk & Norwich Festival and WildWorks in partnership with the National Trust.
The Observatory
The Voice Project
World Premiere
Exploring humankind's relationship with space, this promenade performance explored spaces at Sainsbury Centre for Visual Arts, with steel guitar from BJ Cole and percussion from Stephen Hiscock and the 200 strong Voice Project choir.
'The sheer scale of the enterprise and abundant talent of the performers was unarguably impressive' Eastern Daily Press
---
A Norfolk & Norwich Festival and The Voice Project co-commission.
All 2015 companies & artists
Classical Music
Alexandra Vaduva
Artesian Quartet
Aurora Orchestra
Aurora Trio
Bournemouth Symphony Orchestra
David Dunnett
Ingolf Wunder
Iosif Purits
Misha Mullov-Abbado Quintet
Northern Chords Ensemble
Norwich Cathedral Choir
Philharmonia
The Tallis Scholars
Family
A Unicorn/Imaginart
Naomi Kerkove
Literature
Presented in association with Writers' Centre Norwich
Andrew O'Hagan
Caroline Criado-Perez
Caroline Lucas
Ellah Wakatama Allfrey
Erica Wagner
Hugh Aldersey–Williams
Isabelle Grey
Jake Fiennes
John Lancaster
Mark Avery
Mark Cocker
Masha Gessen
Neel Mukherjee
Patrick Barkham
Robin Page
Rose Tremain
Sarah Perry
Sarah Waters
SJ Watson
Tim Clare
Tracey Thorn
Performance
Annie Ryan
Barely Methodical Troupe
Eimear McBride
Hofesh Shechter Company
SMITH dancetheatre
WildWorks
Visual Arts & Film
Janek Turkowski
Jeff Koons
Rosemary Lee with Roswitha Chesher
Sam Green + yMusic
Contemporary Music
Abdullah Ibrahim
Canzoniere
Dónal Lunny
Federico Albanese
James Yorkston
John Etheridge
Jon Thorne
Meklit Hadero
Neil Cowley Trio
Ólafur Arnalds
Oliver Coates
Pádraig Rynne
Stefano Bollani
Suhail Yusuf Khan
Sylvain Barou
Taraf de Haïdouks
The Hot Sardines
The Voice Project
Free Outdoor
Artizini
Willi Dorner
Company Chameleon
CREW
Gandini Juggling
Periplum & Corn Exchange Newbury
Plungeboom
Stefano di Renzo
Stop Gap Dance
Stuff and Things
X TNT
Live Art Club
Deborah Person
Kim Noble
Luke Wright
Mammal Hands
Odd Comic
Polar Bear
Richard Dedomenici
The Neutrinos
The Adnams Spiegeltent
Boubacar Traoré
CC Smugglers
Chassol
Circa
Emily Portman & Sam Sweeney
House Gospel Choir
Panti
Songhoy Blues
The Ragroof Players