Festival Launch
Transe Express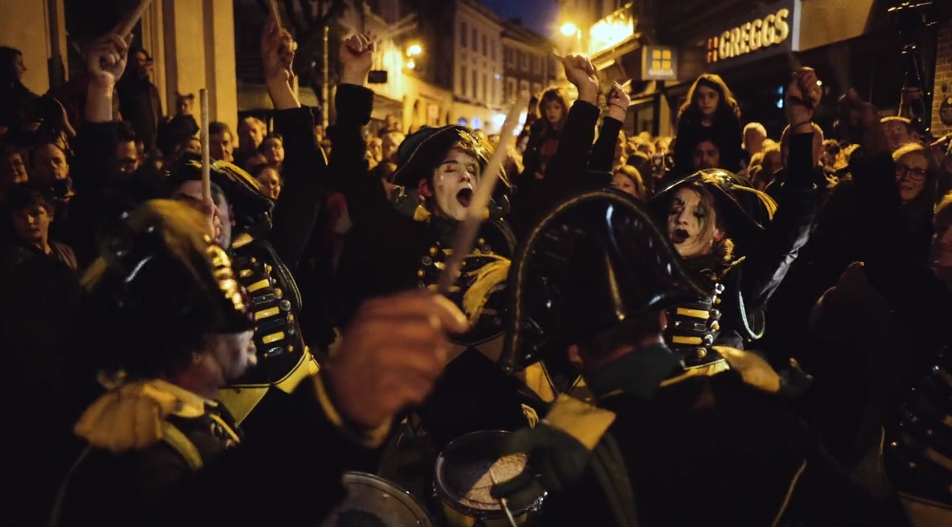 Transe Express have delighted audiences around the world. During NNF18, an audience of over 8,000 people enjoyed our Festival Launch event, which saw a procession of carnivalesque drummers take over the streets and larger than life singing dolls transform Norwich city centre into a fantastical open air opera house.
'Such a fun start to this years Norfolk and Norwich Festival. Transe Express thoroughly entertained thousands through the streets of Norwich this evening, with a jaw dropping aerial finale' Audience member
Wayfaring
And Now: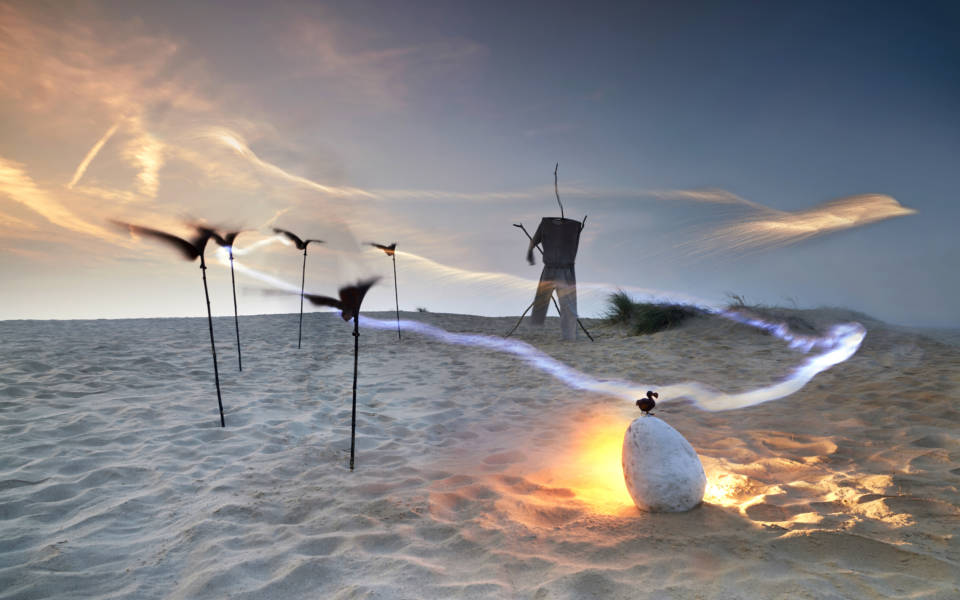 World Premiere
Artists And Now: created and animated a piece of artwork on Wells Beach using found materials. They continue their work with a series of artworks in Areas of Outstanding Natural Beauty that will encourage people to think about movement and migration; how we arrive at, understand, inhabit, protect and leave a space.
---
Produced by Activate Performing Arts. Co-commissioned by Norfolk & Norwich Fesitval, Corn Exchange Newbury, 101 Outdoor Arts Creation Space and Oerol Festival. Supported by the National Association of Areas of Outstanding Natural Beauty and Holkham Estate. With thanks to Norfolk & Norwich Fesitval Director's Circle Supporters Michelle and David Lamont.
Shift
Barely Methodical Troupe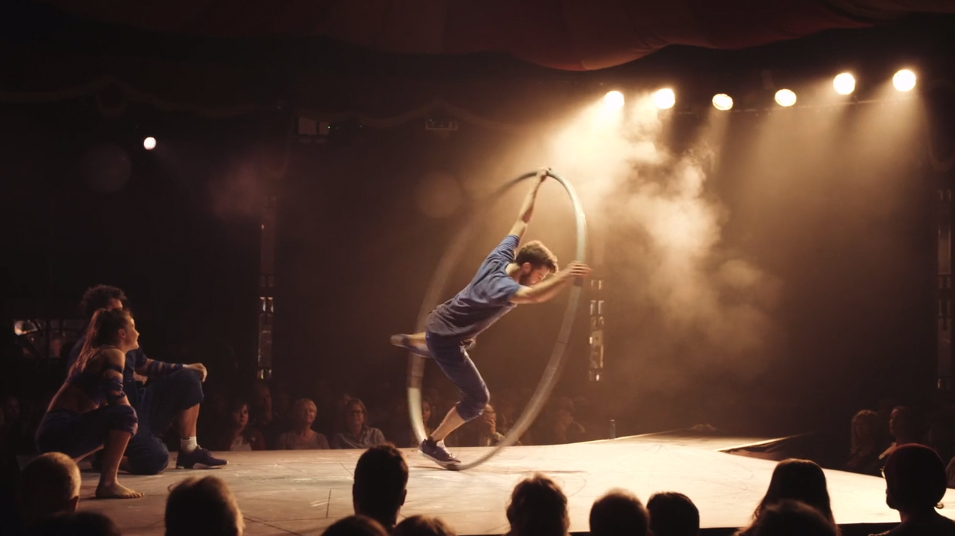 World Premiere
Ground-breaking circus company Barely Methodical Troupe put themselves and each other to the test in a dazzling display of breath-taking acrobatics and performance.
'Barely Methodical Troupe prove truly inventive as they transform each other into human marionettes' Lyn Gardner, The Guardian
---
Commissioned by Norfolk & Norwich Festival; co-produced by Norfolk & Norwich Festival and DREAM. With thanks to Norfolk & Norwich Festival Director's Circle Supporters Simon De-Lacy Adams & Robin Norman.

The Paper Man
Improbable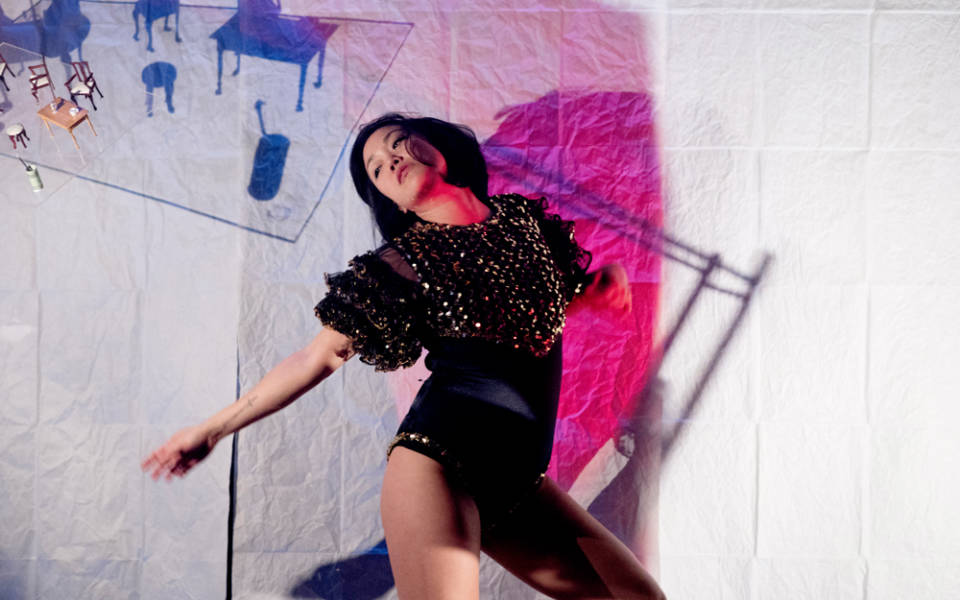 World Premiere
Acclaimed theatre company Improbable premiered a highly praised show at Norwich Puppet Theatre. The Paper Man explored themes around fascism, feminism and football using a diverse cast of co-creators.
'Innovative, challenging, funny, moving. The best of what theatre should be' Audience member
---
A Norfolk & Norwich Festival, La Strada, Graz and Soho Theatre co-commission; co-produced by Norfolk & Norwich Festival and Improbable.
All 2018 companies & artists
Classical Music
Aleksey Semenenko
Ashley Riches
Andrei Ionita
Britten Sinfonia
Hyeyoon Park, Timothy Ridout, Kian Soltani, Leon Bosch and Benjamin Grosvenor
London Philharmonic Orchestra
Mark Padmore, Christopher Purves, Julius Drake and Simon Russel-Beale
The Sixteen
The Cathedral Choirs of Norwich, Ely and Peterborough
Family
Britten Sinfonia
Kid Carpet and the Noisy Animals
Literature
Presented in association with Writers' Centre Norwich
Aarathi Pasad
Aliya Gulamani
Ben Okri
Byron Vincent
Caspar Henderson
Caitlin Davies
Charles Fernyhough
Fred Pearce
Gavin Francis
Hannah Silva
Hilary Spurling
Hugh Lupton
Jack Dean
Jack Hartnell
Jackie Hagan
James Evans
James McGrath
Jefferey Deaver
Joanne Limburg
Johann Hari
Joyce Dunbar
Judy Murray
Laura James
Owen Lowery
Preti Taneja
Proteus
Rachel Clark
Rachel Hewitt
Raymond Antrobus
Rosy Carrick
Sarah Perry
Suzanne O'Sullivan
Tim Clare & Mark Grist
Tom Shakespeare
UEA Creative Writing MA students
Viv Albertine
Contemporary Music
Amanda Palmer
Ben Folds
David McAlmont
Deva Mahal
Jyotsna Srikanth & Bollywood Brass Band
Kathryn Tickell & The Darkening
Ladysmith Black Mambazo
Mary Chapin Carpenter
Maya Youssef Trio
Opera North
Talvin Singh
Free Outdoor
A Bird in the Hand Theatre
And Now:
Flex Dance Company
Hikapee
Lucy Enskat
Marco Barotti
Max Calaf Seve
Mind The Gap
Ockham's Razor
Stopgap Dance Company
Transe Express
Travelling Light Circus
Voice Project
Performance
Barely Methodical Troupe
Forced Entertainment
Frozen Light
Gandini Juggling
Hofesh Shechter
Improbable
The Adnams Spiegeltent
Ashley Henry
Barb Jungr
Binker & Moses
House of Waters
Le Gateau Chocolat
Les Amazones D'Afrique
Maisha
The Ragroof Players
Visual Arts
Damien Hirst
Lynn Chadwick
Nathan Coley
Image credits: Masthead image: NNF18 Festival Launch © JMA Photography