We returned for 14 days in 2021 with a specially created one-off adaptation, which included outdoor and socially distanced performance, art, music and a digital strand
Don't Touch Duckie
Duckie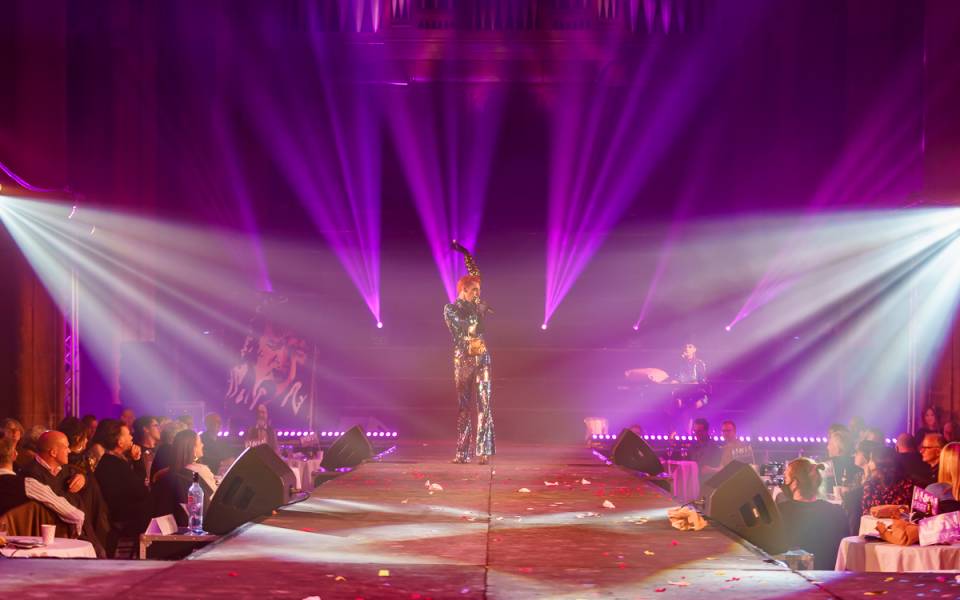 A Norfolk & Norwich Festival Commission
On the first legal day for live performance, south London cabaret münters Duckie presented a drag showbiz speakeasy for a few hundred real people and a few hundred cardboard stiffs.
Hosted by Bourgeois & Maurice, with spectacular performance bulletins by Thick & Tight, Oozing Gloop, Harry Alexander, Legs '67, Joan Collins and Dame Barbara Cartland. The cabaret magazine included a chat with our Artistic Director about this year's Festival, and culminated in post-show bubble dancing and stiffs by Robin Whitmore.
---
Sponsored by PwC
Garden Sessions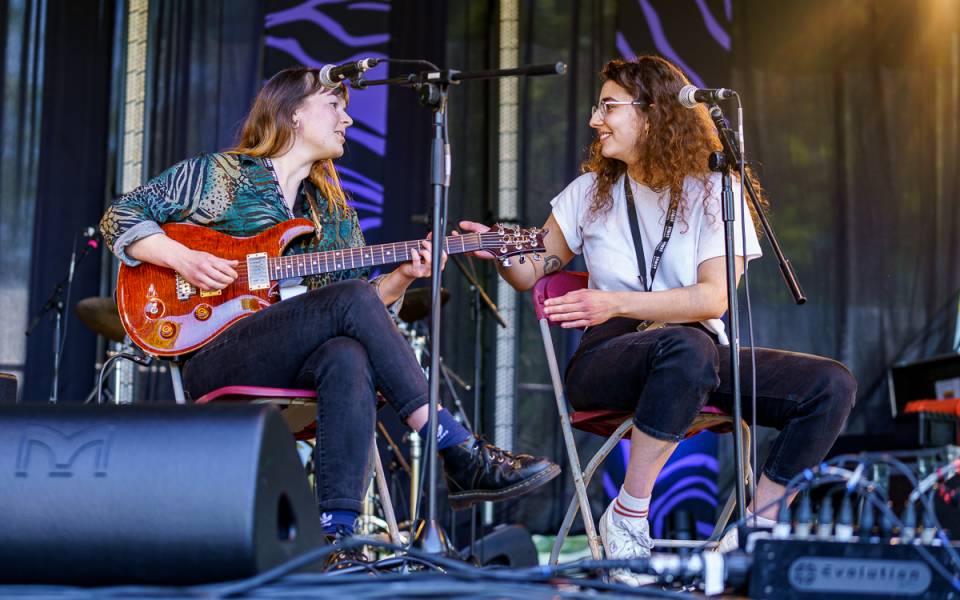 In Collaboration with Wild Paths
On the final Festival Weekend we brought live music back to the Gardens in true Festival style.
The line-up included Mercury-nominated headliner Moses Boyd, Shunaji, Ebi Soda, Maya Law, Poppy Ajudha, Ego Ella May, Chartreuse and Freya Roy.
---
Sponsored by FX Home
Festival Mobile Stage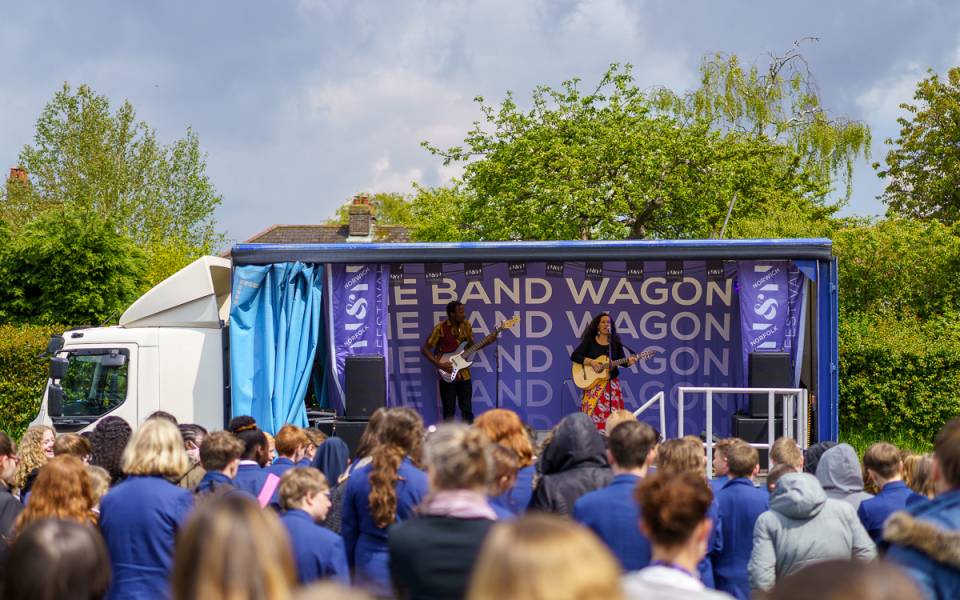 In a new initiative, we are brought some special work to communities on the back of a truck!
It has been difficult to get out and about for many this year, even more so than usual, and we wanted to make sure as many people as possible got to experience live performance. From residential homes and community squares to schools and hospitals, our stage rolled up and brought live acts to 2275 audience members – it was great to see you all!
---
'It was excellent – and much enjoyed by our residents who, although they would not normally attend Norfolk and Norwich Festival events, spoke of it constantly in the days that followed' Feedback from The Great Hospital
Experience Packs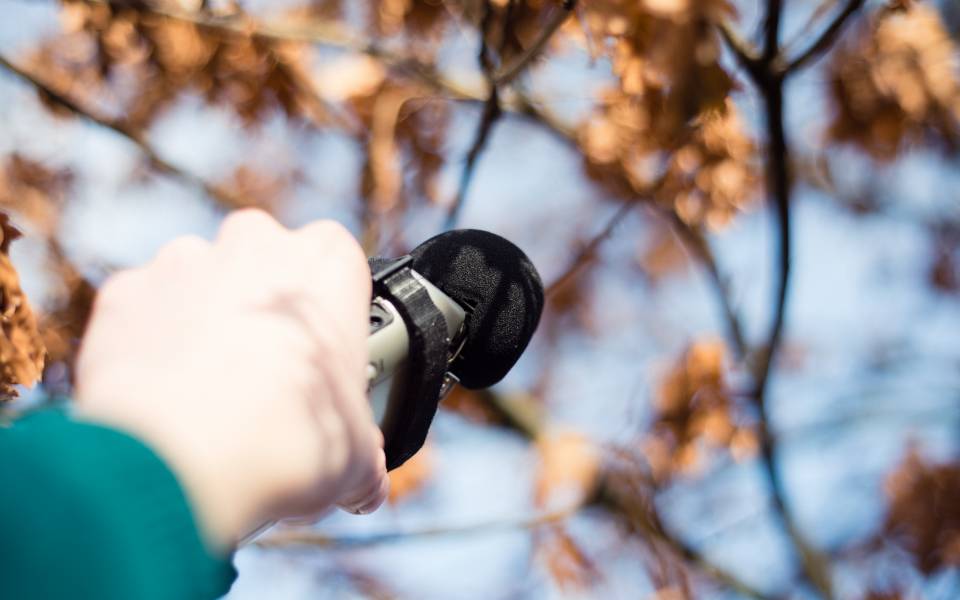 A Norfolk & Norwich Festival Commission
We invited audiences to unpack an experience with our 4 Experience Packs, each designed to help you connect with nature and art in a new and accessible way!
---
The NNF21 packs were A Rain Walk by Andy Field  & Beckie Darlington, Something for Your Shelter by Frozen Light for audiences with PMLD, Rambles with Nature by Sheila Ghelani and Going Somewhere by Noëmi Lakmaier.
All 2021 Companies and Artists
Classical Music
Britten Sinfonia
I Fagiolini
Mahan Esfahani
Manchester Collective
Norwich Cathedral Choir
Norwich Chamber Music
Samson Tsoy
The Academy of St Martin in the Fields
Literature
Presented in collaboration with the National Centre for Writing
Abir Mukherjee
Derek Owusu
Ellah P. Wakatama
Jessica L. Lee
Kerri ní Dochartaigh
Mwen
Rowan Hisayo Buchanan and Jessica L. Lee
The Book Hive
Future and Form
Presented in collaboration with UEA
Ayòbámi Adébáyò
Imogen Hermes
James McDermott
Mitch Johnson
Mona Arshi
Tash Aw
Visual Arts
Caroline Fisher
Common Ground Leaders
Cristina Iglesias
Genevieve Rudd
Grayson Perry
GroundWork Gallery
Katie Spragg
Norwich Castle Open Art Show
originalprojects
Tony Cragg
Experience Packs
Andy Field
Beckie Darlington
Frozen Light
Noemi Lakmaier
Shelia Ghelani
Contemporary Music
Abel Selaocoe
Article XI
Chartreuse
Ebi Soda
Ego Ella May
Freya Roy
Hatis Noit
Holding Hands
Jessica Walker
Luke Styles
Maya Law
Moses Boyd
Nabihah Iqbal
Poppy Ajudha
Sarathy Korwar
Shunaji
Free Outdoor
Alleyne Dance
Altered States
Beady Eye
DamaeDance
Emergency Exit Arts
Far From The Norm
Gravity & Levity
Hunt & Darton
Jason Singh
JMCAnderson
Kaleider
LASTheatre
Marc Parry
Simple Cypher
Yara + Davina
Performance
600 Highwaymen
Blast Theory
Bourgeois & Maurice
Chris Dowding
Holly Bodmer
Legs '67
Matthew Robbins
Oozing Gloop
Ray Lee
Requardt & Rosenberg
The Javaad Alipoor Company
The Other Way Works
Thick & Tight
Tim Spooner